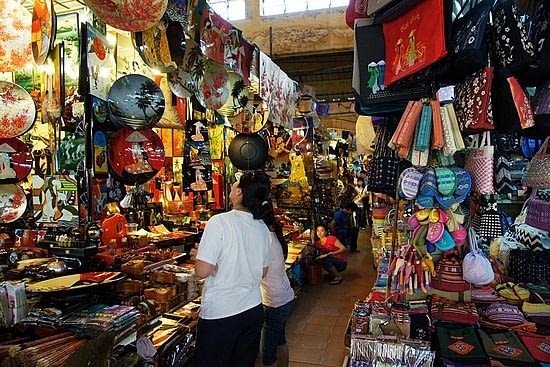 Ben Thanh Market is a lot of fun if you go in with a good attitude and a smile on your face. The sellers working the stalls will always try to go super high on the price to start with but if you hit them back with less then half of what they quoted you, you can eventually end up somewhere in the middle. The best rule of thumb is if you see something you like, figure out what the maximum you would spend on that item would be.
For example, lets pretend you see a nice pair of shoes you like and for sake of easy math lets pretend you won't spend more then $25 on it. You try them on and are willing to buy them and you ask the dreaded question "how much?". She will most likely give you some ridiculous number to start with like 1.6 million VND ($95) which you and I both know is an insane price for a pair of knock off branded shoes. An argument can be made saying you could get the real ones for cheaper than that in your home country.
What I would do in this situation is come back incredibly lowball and offer them something like 200k VND ($12). Keep in mind you have already set yourself up a limit of $25 (similar to gambling – know your limit and stay within it) for these shoes so you can't just outright say you are willing to spend 450k because now there is no bartering to be had and you are stuck with either walking away or going higher then you initially want to.
In this situation of such a lowball number they will probably try to guilt you for going so low but remember, they started ridiculously high so it's only fair game. She will say something like "Oh my god! Do you want me to diiiiee nooow? Please, what's your maximum price you pay?" At which point you will go up maybe 50k, so now we are sitting at 250k ($15) as your offer and she will say something like "Nooo, can't do. No profit for me" at which point you will then come back on their level and use their own words against them "Okay fine, what's your best price on it then?" she will probably only go down a few hundred thousand so maybe 1.2 million VND ($71).
The game continues as you pretend to be visibly shocked and almost offended by the price they have given you. "No way, that is way too much" you'll say, again using the argument you can probably get real ones for that price or even cheaper. They will again ask your "maximum price" "Please give me your maximum price. The real price now, please" which you will go up another 50k or even 100k so let's pretend you are now sitting at an offer of 350k VND ($20). Now you're in the ballpark of what these shoes are actually worth and you and them both know this. They will probably come back at 800K or lower since they knows you aren't here to fuck around.
You'll come back at 400k VND ($23) and this is a number that you need to stick with for the remainder of the conversation until she comes down to around 500k. They will keep throwing phrases out like "last price okay?" or "best price you pay please?" in the meantime during this entire conversation they will probably be commenting on how handsome you are and how extremely well endowed you must be, which we already know to be true so don't let them butter you up with compliments. You are here to get a good price, not a date.
Finally offer her the 450k you were willing to spend originally or hold strong at 400k and be willing to walk away. The walk away method does not always work and even I have had to come crawling back for the final price they offered if it was something I really liked and couldn't find cheaper elsewhere at the same quality.
Bam, congratulations! You now own a pair of nice branded good quality knock off shoes for a quarter the price you'd pay back home.
Remember though, don't be a tool about it. Don't treat them like shit either. Bargaining is fun and expected in Vietnam. Bargain with a good attitude and a smile on your face and both you and the seller will have a good time doing it. I have had a lot of fun and have laughed and joked around with a lot of sellers in a lot of different markets all around Vietnam. The first price is always a stupid number and they know this, so don't feel bad about taking them down for below half of what they have quoted you originally. If you aren't having a good time or if you feel like the seller is being completely unreasonable then walk away.
Buyers remorse is a real thing and not a good feeling to have if you feel like you had just been taken for more money then you should have. Stay strong and don't be guilted into spending more then you want too.
Below is some pictures of various items Laurel and I have purchased over our month of being in Vietnam. I will post the price they originally wanted (if I can remember) and then the price we actually got them for.
We are a young Canadian couple who enjoy documenting our travels via blogs, Instagram and YouTube. Check out our videos if you enjoy what you are reading.