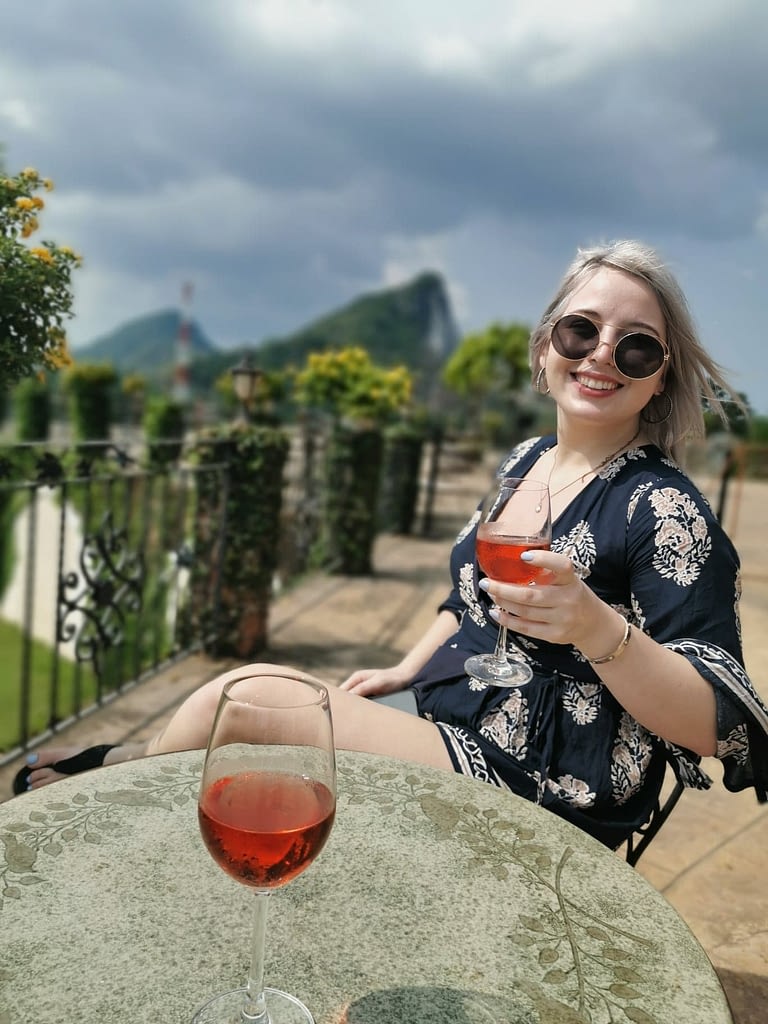 It's been a fun filled week so far. We met up with Nyx in Bangkok and decided to travel to Rayong together since he needed to get back to work for a bit. We hopped on a mini bus that takes us right from Bangkok to directly in front of his compound where he lives. The bus was super affordable considering we only paid 150bht each ($7) for the 3-hour journey. Nyx was super busy the entire bus ride with taking phone calls and chatting with clients so we were honored that he took the time out of his busy schedule to show us around Rayong and take us out for an all you can eat BBQ that evening. Hendrik wasn't due back in town until the next day so in the meantime we had a chill night and got some much needed rest (Laurel was still feeling a bit jet lagged). We woke up feeling much better with a little more energy so we decided to go to the local winery here in Rayong. B-e-a-u-tiful to say the least. Reminded us of being back home in the Okanagan (without all that snow you guys currently have).
We toasted our rosé filled wine glasses and had a little walk around the fields. The entire landscape was just breath taking. I wanted to get some drone footage of the winery but stupid me forgot the main wire that hooks to your phone and the drone so that was out of the question. Wine was a reasonable price at around 180baht a glass ($8ish) and you could buy 2 bottles for 1000baht ($40). I mean – it's no Okanagan wine but it was damn good I'd have to admit. Hendrik was waiting for us at home. It was nice to see him again after a year and we had a lot to catch up on. He wanted to cook some home made Thai/Western fusion food for us which we had no complaints with. I mean he was letting us stay for free at his home so the least he could do is cook for us too, right? We head out on his 300cc scooter with no helmets and Hendrik at the helm. Promptly shitting myself the entire ride to the store as he darts in and out of traffic I stopped being an Atheist for those 20 minutes. We collect the food to be cooked and we grab a couple of beers for the road (because if these are my last minutes on Earth I'm going out with a San Mig Light in my hand) and I continue praying to the Baby Jesus as we ride home. The food was phenomenal as usual when Nyx and Hendrik cook. We had steaks, pork chops, Thai salads (no idea what they are called) and some grilled sausages all done on the BBQ. We crushed 2 cases of San Mig Lights between the 4 of us and I woke up feeling not bad to my surprise.
Making the most out of the hangover I didn't feel that morning we decided to go to the beach. Rayong is a beach town and has a nice breeze most of the time as opposed to the stagnant humid heat that sits still in Bangkok. We hit up a nice beach but the beaches in Pattaya and Rayong aren't the nicest to swim in (a lot of garbage floats to shore due to the oceans pollution) so we found a nice pool bar right on the ocean down the road. It's basically this guys house with a pool in the backyard. It was like having your own private pool and somebody served you drinks by the poolside. San Migs were only 70baht each which is totally reasonable considering we are hanging out in a pool with bottle service.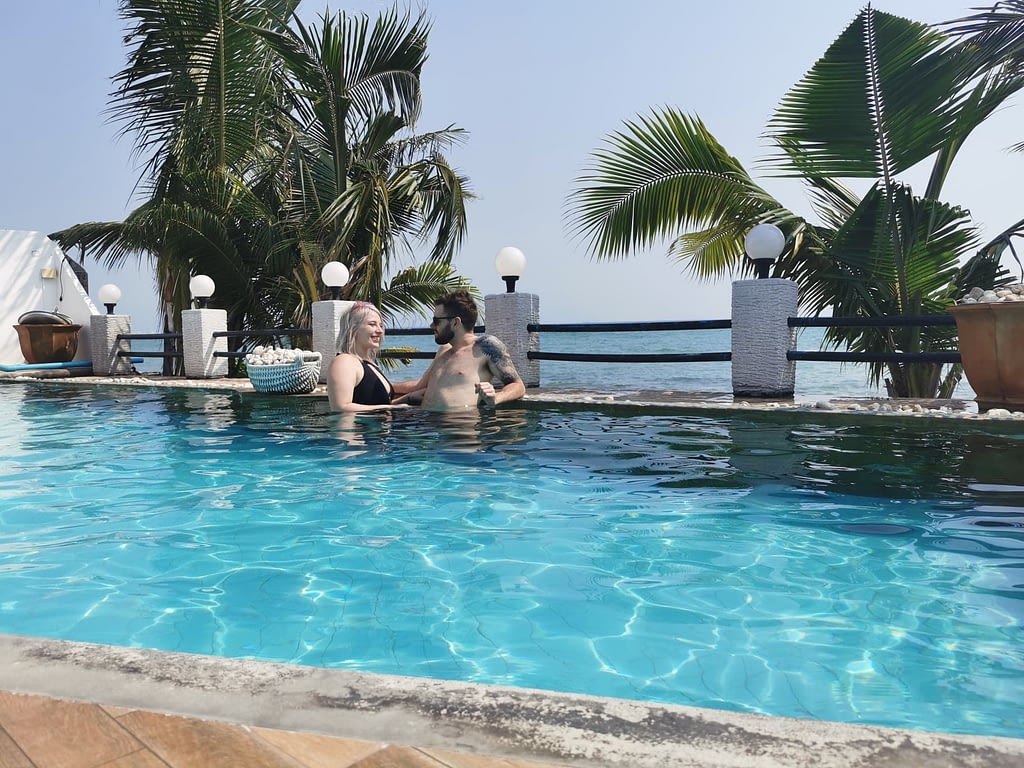 At last the good times must come to an end sometime. We had a great visit with Nyx and his cousins but we must move on to the North to continue our unplanned itinerary. We will fly into Chiang Mai which is only $50 from Utaopao Airport and an hour flight. Considering we haven't paid for a single night of accommodation since we have gotten here I think we are doing not bad money wise. I consider myself lucky to know people like Nyx and Hendrik while I travel over here. I mean – the fact I met Nyx in a bar my last night in Bangkok 3 years ago who then introduced me to Hendrik and so on is incredible. Life is kind of crazy like that… Until next time Nyx!
We are a young Canadian couple who enjoy documenting our travels via blogs, Instagram and YouTube. Check out our videos if you enjoy what you are reading.