We were in Hue for 3 days. Vietnam has been light rain / cloudy most of the time we have been here. I mean, we had entire month in Thailand with not a day of rain, which in my experience is rare. Typically in the South of Thailand a quick torrential downpour or two will happen for a few hours while you are there, so we were lucky in that sense.
Vietnam has two seasons: dry season and rainy season. Technically we are in dry season, but anything can happen in the South where the climate is generally cooler and misty. Rainy season tends to be from May to about October, depending on the year of course. So, realistically this is the best time of year to come. It's just our luck that it has felt like rainy season!
Regardless of the rain and cooler temperatures (which I personally love) we have been having a great time gaining weight from the mass amounts of bread we consume here. Vietnam has major French influence, not only on its buildings but its food too. Banh Mi means bread and it is truly abundant and delicious everywhere you go! A "bad" banh mi sandwich is like a "bad" pizza, it's still good.
Hue has an incredible amount of authentic food that originated in this city since the emperors and higher ups back in the day. Hue is a city in central Vietnam that was the capital of Dang Trong Kingdom from 1738 to 1775 and of the Nguyen Dynasty from 1802 to 1945. A major attraction to this city is its vast, 19th-century citadel, surrounded by a moat and thick stone walls. It encompasses the Imperial City, with palaces and shrines also known as the "Forbidden Purple City" and once the emperors' home, it is a replica of the Royal Theater.
The city was also the battleground for the Battle of Hue, which was one of the longest and bloodiest battles in the Vietnam War.
But, we didn't come for all that mumbo jumbo. We came for the food and Hue has a lot of it. Starting with one of my favorite dishes I've had in Vietnam so far is Bun Bo Hue. Bun means noodle and Com means rice, for future reference in this article.
Bun Bo Hue or simply Bun Bo is a signature soup dish that originated in the city of Hue and is similar to Pho but better. Bun Bo Hue usually has chunks of beef shank, oxtail and pig's knuckle. Depending on the restaurant serving it, it may have congealed pig blood, which has a similar texture to tongue or liver or firm tofu. This dish is commonly served with lime wedges, cilantro, green onions, raw white onions, chili sauce, thinly sliced banana blossom, red cabbage, mint, basil and a bunch of other stuff I can't even think of.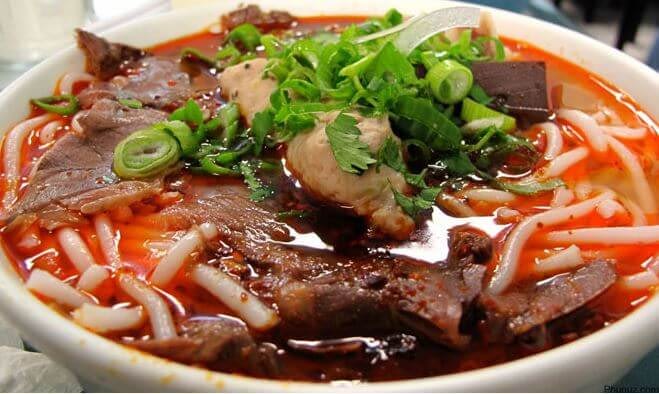 Com Hen – which means clam rice, is actually really good. Basically, a chaotic bowl of contrasting colors, tastes and textures. Laid upon a bed of rice, it comes with yummy stir-fried clams, crispy pork rein, bean sprouts, peanuts, fried shallots and herbs, that is served with a bowl of hot clam broth that you can add as you wish. This dish is very popular in Hue and is easily found on any street corner.
Banh Khoai – This crispy crepe, which at first, I thought was a fried omelet, since it was a bright yellow is absolutely amazing. This rice flour crepe is made with turmeric, sugar and carbonated water which explains its yellow color and fluffy yet extra crispy texture. Typically pan fried and stuffed with shrimp and pork belly or some kind of fatty sausage meat cooked alongside a healthy amount of garlic, scallions, bean sprouts and sometimes an egg (my personal favorite is quail eggs). Served with hoisin sauce, sweet chili sauce, fresh lettuce, cucumbers, cilantro, mint and sometimes star fruit (which I'm not big on personally). Easy enough to find on most street carts alongside alleyways and street corners, it's a must eat when in Hue, Vietnam.
We had many more foods of course but these were just few that were original to the city of Hue. If you happen to come to Vietnam, feel free to seek out these delicious dishes, which although may have originated in Hue, are easily found in many parts of Vietnam.
We are a young Canadian couple who enjoy documenting our travels via blogs, Instagram and YouTube. Check out our videos if you enjoy what you are reading.