Koh Phi Phi (The Island We Never Want To Leave)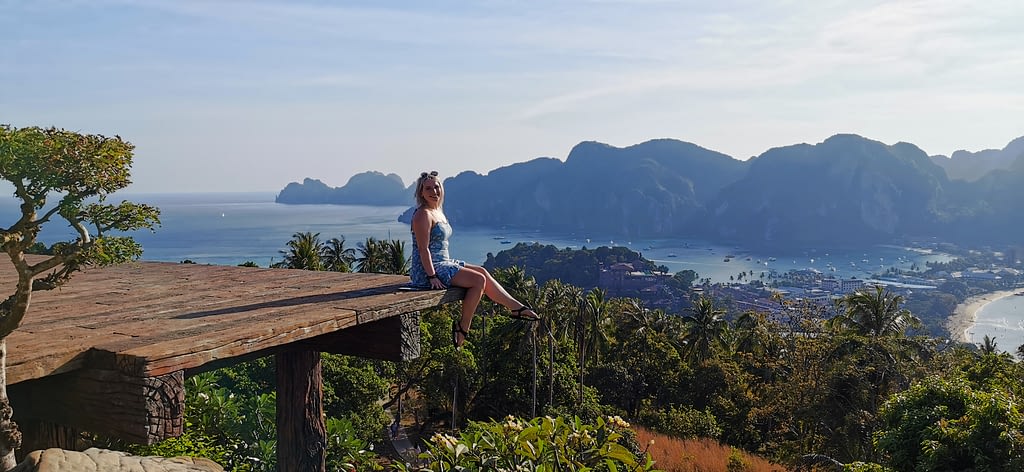 Laurel and I only booked tickets to Koh Phi Phi because she really wanted to go and experience what it had to offer. I could have cared less about never setting foot on, what I thought was probably the most touristic island in all of Thailand, other then the shit hole known as Phuket.
Boy, was I wrong!
Not only did I love every minute of being on this tropical paradise, but it took every will of my being not to say fuck it all and cancel our flights back to Bangkok, sell my house and live here until the sale money ran out. Phi Phi island is hands down one of the most magical places I've ever been to in my entire life, and I've been to some pretty magical places, let me tell you.
Starting with our resort – astounding, breathtaking, marvellous – just some of the words that could describe our stay at Phi Phi Bonita. As soon as we arrived, we were greeted by the super lovely lady who runs the place, Mrs. Pu. Greeted with a sa-wa-dee-kaa and a cold drink, she was just the sweetest thing on the island (other then the views of course). She showed us to our bungalow, which was located poolside, and already had the A/C running in our room and the bed dressed in flowers for our three-night romantic stay. She politely informed us that due to the location of the resort (peacefully hidden in the mountain) we had to contact a gentleman named Mr. Dey who runs the shuttle service from the resort down to the village. You see, Koh Phi Phi doesn't have roads or vehicles other than the odd scooter bombing around by the locals. Realistically, you could walk anywhere on the island with no problems at all, other then your legs hurting after awhile.
Mr. Dey was a character himself. Almost never wearing a shirt other than a blue sash over his shoulder, some dark blue Harem pants, and a huge grin on his face – almost that of a pot-bellied Aladdin without the magic carpet. Nicest guy in the world with a very limited grasp on the English language but made every effort to make you feel welcome. I would soon know how patient and kind he really was after Laurel and I had three too many buckets and could not find our way back to the pickup point on our first night. He waited well over an hour for us and after finally showing up shit faced to meet him, not once did he make us feel bad about it (he definitely did not have to wait for us at all).
Aside the fact that the staff and the resort were incredible, Koh Phi Phi is home to some of the greatest viewpoints in Thailand. A 25-minute hike from the bottom of the village will get you to Viewpoint 1 which is a well landscaped garden on the side of the mountain looking down among the entire pier itself. Continue another 10 minutes further up and you will come across Viewpoint 2 which bares a wooden platform that gives you an incredible view of the entire half of the island. One good thing about this whole Coronavirus fiasco is that we essentially have these views to ourselves. What would normally be an overcrowded platform full of tourists from all over the world was only us and a few other couples taking in the sights and sounds.
The other awesome part of this trip is the sheer number of cats on the island. You all know that I'm a cat guy to the max and this was like heaven on earth for me. Alcohol and an abundance of cats is a recipe for love as I roll on the ground surrounded by these furry little felines. Every corner I turn is a cute little cat waiting for my love and attention as Laurel tries to get me back on track to what we were originally doing, which was apparently not petting cats every 5 seconds. Laurel doesn't have the cat whisperer voice like I do apparently as she was also enjoying petting a sassy little kitty who abruptly decided that it did not want to be petted anymore and bit her. Not Laurels fault though, as this little sass ball was loving the attention she was getting until, in typical sassy cat fashion, she wasn't. On a positive note, here are just a few cat pictures for you all to enjoy.
We are a young Canadian couple who enjoy documenting our travels via blogs, Instagram and YouTube. Check out our videos if you enjoy what you are reading.