Platinum Fashion Mall (Bangkok's Best Mall)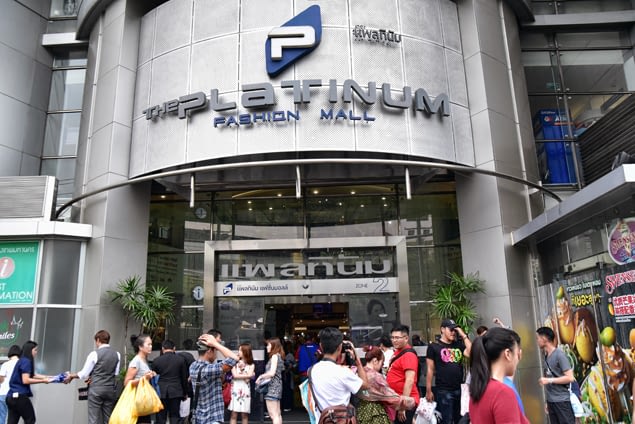 We have been to MBK and Terminal 21 which are two very iconic shopping malls in Bangkok. When Laurel wanted to go to Platinum Mall, I was thinking they were going to be the same shit we have seen before: overpriced crap and extremely pushy salespeople. Well, I couldn't be more wrong. The mall is huge with 3 zones and over 6 floors of clothing and accessories. It is very reasonably priced to the point where I don't even try to bargain that hard there. I was afraid to leave Laurel alone because she might buy out the entire floor with all the stuff she was looking at. This place is a woman's wet dream really. 6 floors of clothing and jewelry – I mean come on. The mall may look luxury and appealing on the outside but on the inside it's almost like an indoor Chatuchak Market (if you've ever been). This place has over 1,300 shops that spans over 6 levels that are named after iconic shopping districts, like Soho, Nathan, Camden, Orchard, Ginza, and Oxford. We were lucky enough to have arrived early – as shops were opening – so we beat the rush of people who would later fill the aisles. This mall sells good quality clothing for a very reasonable price, so it gets quite busy between 10AM – 4PM.
If you plan on visiting Platinum Fashion Mall then you should give yourself a couple of hours to just meander through the shops as every shops has something different to offer. If you like knowing what's on the menu before you order like I do then you can check out the malls website which lists most of the shops and products so you can know what you are getting yourself into before you go. A lot of the clothing shops have pictures of models wearing the products as well so you can get an idea of what the cut will be like on different body types – a nice touch I thought. The best thing about the mall is the lack of pushy salespeople, which if you have been to Thailand before, you know exactly what I'm talking about.
Most of the shops cater towards women's clothing, hats, jewelry, and accessories but don't worry boys, there is some good options for you as well on level 4. A lot of great souvenirs, gift shops, and household items can also be found on certain floors.
You'll see some locals filling up suitcases and large plastic bags with clothing and accessories, which they will then turn around and sell at local markets for a profit. Hell, even I considered buying $1,000 worth of cheap earrings just to sell on my e-commerce website (which is still currently under development). It's not uncommon for foreigners to ship tons of stuff back home to sell for a big mark up in their home country. You could easily turn 1000% margin on most of this stuff and make a killing if you had the overhead and storefront to do it. Necklaces that sell for over $20 in Canada can be purchased here for around $2 or less.
You could easily lose half a day shopping til you drop in Platinum Fashion Mall if you're not careful. Lucky for you it is open 7 days a week 8AM – 8PM. Saturday and Sunday afternoons are the busiest and most crowded times at Platinum. The best time to visit is in the morning on a weekday, right after the mall opens.
We are a young Canadian couple who enjoy documenting our travels via blogs, Instagram and YouTube. Check out our videos if you enjoy what you are reading.