Sun World & The Golden Bridge
Da Nang may be the most magical place we have visited on our trip thus far. Laurel and I have fallen in love with this coastal beach city from its laid-back beachy vibes yet it still offers the amenities of a large city. Da Nang is the third largest city in Vietnam and lays between Hanoi in the North and Ho Chi Minh City in the South. It's a big city look with a small city feel and we couldn't be happier with our experience there.
Da Nang seems like it's constantly being built up, but fortunately doesn't have the loud construction noise to go with it. High rises and new hotels are constantly sprouting up especially near the famous My Khe Beach which is understandable considering more and more foreigners are flocking to this part of Vietnam. 
Da Nang is essentially split in two. Across the Dragon bridge you have the big coastal city part and on the other side you have the small-town beach part. The Vietnamese aren't really big beach goers. It's funny because the busiest time at the beach is either in the evening or early morning. When somebody like you would go typically mid day the Vietnamese would think you are crazy. It comes down to class. One thing I've noticed and I think I have mentioned before in previous blogs is Southeast Asians in general don't like dark skin.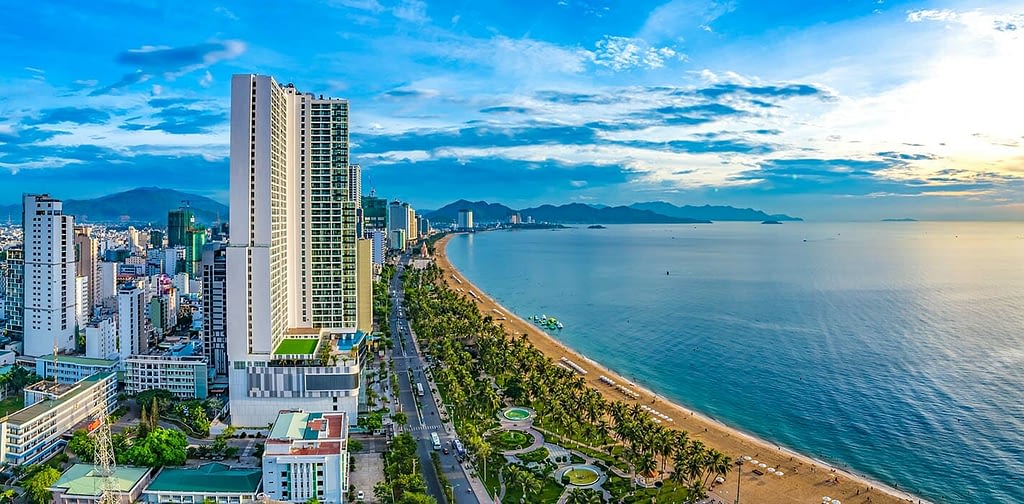 They aren't racist per say – more classist. Dark skin means you work in the sun usually as a farmer or some sort of laborer, which they equate to having less money, therefore less class. If you have lighter skin that means you probably work an office job, therefore probably have a good income or benefits. Another typical trait I've noticed is Vietnamese men have long fingernails, which is another sign of not working hard. In their mind it's the equivalent of showing off.
That isn't what we are here to talk about though. We are here to talk about the wonder that lays beyond Da Nang city about a 45 minute drive outside of town – Ba Na Hills. This majestic piece of land has a lot of history behind it starting with the French. Found in 1919 by French colonists who decided to build a resort 1,500 meters above sea level on the top of the hills for French tourists, it has since became Vietnams very own Disneyland. Due to the elevation of the resort, the temperature is significantly lower than that of Da Nang (about 10 – 15 degrees lower in fact).
In 2013, the Ba Na Cable Car was opened and has since gained the world record for longest non stop single track cable car which travels a distance of 5,801 meters (19,032 ft). We paid 750,000 VND each ($43) to gain access to the entire resort including the cable car ride, which honestly was worth the money itself. This was the most money we spent an any attraction since travelling and we were worried it wouldn't be worth it. Wrong!
The cable car ride alone was absolutely amazing, with breath taking 360 degrees and a see-through floor to top it off. Once we reached the top we were greeted by the friendliest staff who would wave and politely direct you through the cable car station up to the main circle of the resort. The main resort itself had a real Jurassic world feel to it.
The main thing we wanted to see was the famous Golden Bridge which is a golden bridge that protrudes out on a 90 degree angle with 2 hands simulating holding it up. It was very foggy that high up making the hands holding the bridge look very ominous and mysterious. Great for photos and the weather made it so it wasn't too hot up there at all.
After we enjoyed a great view, a few photo ops and a nice glass of local sangria we were going to head back down, until that is I saw a building that said "Fantasy Park". The inner kid came out in both of us as we ran towards the building full of amusement rides and 4D theatres. They had everything from a giant rock-climbing wall and that ride where it shoots you straight up really fast, or a mountain coaster (that was closed for maintenance) and plenty of 4D theatre experiences to choose from.
The money we paid was more than worth all the things we did that day. If you come to Vietnam, you must make time to visit the wonderful coastal city of Da Nang and make sure you get over to Ba Na Hills and experience all it has to offer!
We are a young Canadian couple who enjoy documenting our travels via blogs, Instagram and YouTube. Check out our videos if you enjoy what you are reading.